"I frequently tell friends and coworkers that I am going to spend the weekend playing in the mud. In a sense that is how I have always approached my work. Never wanting to be too serious while enjoying the freedom to produce whatever form or pursue any style that came to me each day."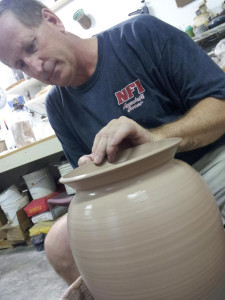 A common theme found throughout Ron's work is grounded in a concept that goes all the way back to a senior thesis – Freedom of Clay. Wheel thrown work is not overworked, allowing throwing lines and natural textures to stand out. Hand built and extruded pieces maintain a free-form look from start to finish. Glazing techniques often vary from piece to piece with some pieces focusing on unglazed clay for texture and others using glazes and application techniques that accent the natural forms and shapes.
Ron D. Cook graduated in 1982 from Coe College in Cedar Rapids, Iowa with degrees in Fine Arts and Business Administration. While pursuing a marketing career that included several relocations, Ron has always found time to keep up with his passion for pottery. Moving to Quincy, Illinois in the summer of 2003, Ron finally had the opportunity to set up a studio within minutes from home. Mill Creek Pottery was located on five acres along Mill Creek on the southeast side of Quincy, Illinois. In the summer of 2014, Ron relocated nearby to the outskirts of Liberty, Illinois. There he has been working to slowly rebuild a more ideal and spacious studio set up for both reduction and Raku firing techniques.
Ron is a member of Great River Artisans and Corridor Artists.
Visit the "Life of a Mudslinger" page to check out stories from the studio, throwing tips, and fun facts about mudslingin'.